The Sanders – Helena's Bed and Breakfast
Welcome to The Sanders
Helena's Bed and Breakfast.
Happily serving folks from around the world.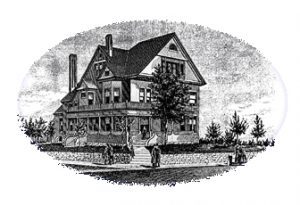 Acclaimed as 1 of the 100 Best
B&Bs in the U.S. and Canada
Experience gourmet breakfasts, luxurious beds, rooms with elegant furnishings (each with its own private bath), afternoon refreshments in the parlor or on the front porch in summer. Enjoy one of Helena's finest mansions, beautifully restored and filled with Sanders's family treasures. Take a short walk to historic Last Chance Gulch in downtown Helena for restaurants, museums and shopping.
Why stay at a motel or hotel when you are in Helena? Feel like you are at home while you travel.
We look forward to showing you some of Montana's friendly hospitality!

Bobbi Uecker and Rock Ringling
Thank you Dave Bremner for the wonderful outside and room pictures
---